Dedicated Home Theater
People committed to exploring the limits of extreme quality and superior performance build Cello home cinemas. Cello delivers commercial movie theater experiences right in your own home only better. A Cello home cinema makes a big difference in the way you and your family watch movies, television, sports, or play video games. Our goal is to find a way for you to experience the feeling of actually being "in the action" of everything that is happening on the screen.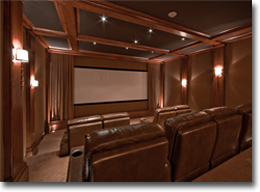 click to enlarge
We approach the home theater environment as more than just a big picture, lots of speakers, and movie posters on the walls. We approach it as a specialized venue designed and equipped to allow the most subtle sensory cues to come through vividly, clear of background noise, acoustic compromises, or imperfect equipment calibration. Cello prides itself in attention to every detail, no matter how inconspicuous it may seem.
We typically create rooms to accommodate audiences ranging from 6 to 60 people, in an endless variety of equipment choices, seating preferences and room design. Whatever the size, budget or architectural style, a home theater by Cello is a uniquely warm, personal space designed to take you, your family, and friends into worlds that lie beyond the theater itself.