Home Office and Home Network Integration
Cello creates home office environments that are easy to use, wired for the future, and that can be connected to your other home systems. We enable you to easily control things like your lights, security system settings, house and grounds monitoring devices, room temperature and other related house control systems you use every day, directly from your desktop or a control pad in your office.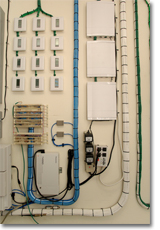 If you have more than one computer in your home, we can create a whole house Intranet (Internal Network) to allow you and your family to tie into the Internet, and each other from any computer in your residence. From the kids study area, to the home office, from the kitchen to the guestroom, everyone can connect to the home, and each other. (Of course we implement these capabilities with varying degrees of control based on your discretion.)
We can also help integrate other household communications technologies including phone systems, fax systems, and intercom systems. If you are interested in taking advantage of the many "wired home" technologies that are on the market today, we can help you wade through the hype, make the best technology selections, and seamlessly make them work for you.