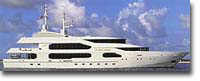 The Cello Marine Division creates music and film reproduction systems that equal the standard of quality and design you've set for your yacht.
If you are a yacht builder, designer or owner, you have set the very highest standards for all aspects of your boat's design, construction and performance. Those same high standards should carry through to world class onboard entertainment, automation and information systems.
Cello offers a dedicated yacht design team located in Seattle who have years of practical experience outfitting some of the world's most prestigious marine projects. Cello also maintains strategic partners in the Mediterranean, Singapore and Florida to provide immediate service should you desire a change to your system while cruising.
Cello has developed systems that not only entertain and inform, they provide a return in the form of lighter weight and greater reliability. If you plan to build, renovate, or purchase a yacht, the Cello team would like be a part of your project.