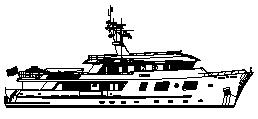 With a passion for opera, the owner wanted a way to listen to hours of music without interruption and entertain guests anywhere on the ship. To this end, Cello installed a music server that provides uncompressed digital audio to the entire yacht.
For viewing movies, Cello installed two surround sound media systems, one in the main salon for guests, the other in the owner's stateroom for personal viewing. Satellite TV, as well as ship's navigation, is available for guests and crew to view on any of the monitors on board.
The highest standards of engineering and installation were required due to Andrea being certified by Lloyd's Register.